Kemet: Aluminium Electrolytic & Polymer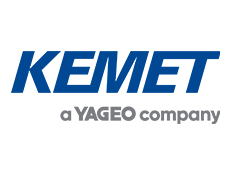 KEMET's complete line of aluminium electrolytic capacitors are designed for use in all types of electronic equipment including power and alternative energy, industrial, telecommunications, automotive, military, medical and consumer electronics applications.
In addition to those products shown in the datasheets, Kemet can optimize the construction to offer application-specific balance between required life, temperature, ripple current, physical size, and cost. Motor start capacitors are also offered.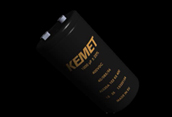 New Product

ALS70/ALS80 High Capacitance 85°C Screw Terminal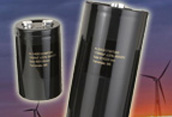 Screw Terminals - Aluminium Electrolytic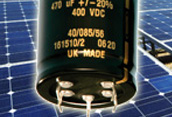 Snap-In - Aluminium Electrolytic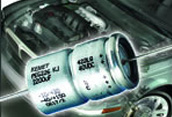 Axial Leads & Radial Crown - Aluminium Electrolytic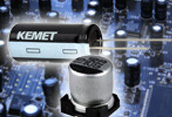 SMD & Single-Ended - Aluminium Electrolytic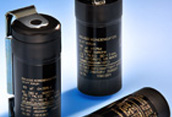 Motor Start - Aluminium Electrolytic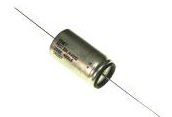 New

PEG130 105°C Series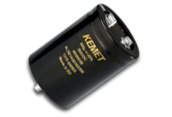 Featured

Screw Terminal Aluminium Electrolytic Capacitors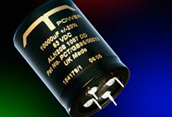 ALN20S - The Ultimate Audio Capacitor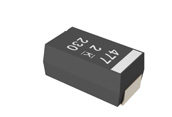 Polymer A700 Series
Close
New Product

ALS70/ALS80 High Capacitance 85°C Screw Terminal



High Capacitance 85°C Screw Terminal Range ALS70/ALS71 series

Compact size with High CV

Capacitance: 300–1,300,000μF
Voltage: 25 –550VDC
Operating Temperature: -40°C to 85°C

Long life, up to 20,000 hours at +85°C

(Rated voltage and ripple current applied)

High ripple current
Excellent surge voltage capability
Optimized designs available upon request

High Capacitance 105°C Screw Terminal Range ALS80/ALS81 series

Compact size with High CV

Capacitance: 300–1,200,000μF
Voltage: 25–500VDC
Operating Temperature: -40°C to 85°C

Long life, up to 9,000 hours at +105°C

(Rated voltage and ripple current applied)

High ripple current
Excellent surge voltage capability
Optimized designs available upon request

Applications:

UPS Systems for Servers
Data Storage
Grid Power Correction
Smart Meters
Wind & Solar
Drives
Transportation
UPS
Welding
Laser Power Supplies

Features:

Long Life Expectancy
High Transient Voltage Performance
High Ripple Current
Wide Range of Mounting & Assembly Options
Full Design Flexibility/Customized Solutions
Leading the Design In –Fast Approach
Close
Kemet Screw Terminals - Aluminium Electrolytic




These capacitors offer very long life in applications requiring high ripple currents, with rated temperatures up to 125°C and voltages as high as 550VDC.

KEMET can also optimize the capacitor construction to offer an application-specific balance between required life, temperature, ripple current, physical size, and cost.




Product Documentation

Kemet Snap-In & Screw Terminal Catalogue | PDF 6Mb
Close
Kemet Snap-In - Aluminium Electrolytic




Available with a wide variety of life and performance options including series with very long life and high ripple current for demanding alternative energy and industrial applications. Rated voltages up to 500VDC and temperatures to 125°C.

KEMET can also optimize the capacitor construction to offer an application-specific balance between required life, temperature, ripple current, physical size, and cost.




Product Documentation

Kemet Snap-In & Screw Terminal Catalogue | PDF 6Mb
Close
Kemet Axial Leads & Radial Crown - Aluminium Electrolytic




Designed specifically for demanding applications requiring very long life, high vibration resistance and high ripple current. Operating temperatures up to 150°C are available without voltage derating. Example applications include:

Automotive power
Industrial LED lighting
Telecom infrastructure




Product Documentation

Kemet Axial & Radial Catalogue | PDF 3Mb
Close
Kemet SMD & Single-Ended - Aluminium Electrolytic




Configurations including long life, high ripple current and low ESR versions:

85°C and 105°C
Life to 10K hours




Product Documentation

Kemet SMD & Single-Ended Catalogue | PDF 5Mb
Close
Kemet Motor Start - Aluminium Electrolytic




Housed in a round molded case meeting creepage and clearance distances according to IEC 60335-1 and flammability ratings according to UL94-V1:

Double 6.3mm quick connect terminals
120VAC - 330VAC ratings
Version approved to EN 60252-2




Product Documentation

Kemet AC Motor Start Catalogue | PDF 2Mb
Close
New

High Performance Axial Electrolytic PEG130 105°C Series



The PEG130 105 C Series offers features suited for LED lighting applications, such as long component life of up to 160,000 hours under certain operating conditions with minimal heat generation.

March 31, 2014: KEMET Corporation (NYSE: KEM), a leading global supplier of electronic components, introduced its next-generation aluminium electrolytic capacitors, featuring a new high performance axial series.

The PEG130 105 degrees C Axial Series offers features suited for LED lighting applications. LED lamp power supplies demand long component life while generating minimal heat. The PEG130 Series addresses both of these needs and are available with capacitances as high as 6,300uF and voltage options of 25, 40 and 63 VDC.

"The low ESR electrolyte and paper system developed for this series is important because ESR contributes directly to heat and losses in a power supply design," stated Leif Elliasson, KEMET Product Manager. "Depending on operational conditions, the PEG130 achieves up to 160,000 hours of operational life."

In addition to the new PEG130 105 degrees C Axial Series, there have also been a number of other product advancements including the following:

The ALS40/41 105°C 500 VDC Screw Terminal Series, featuring high ripple current and long-life characteristics with a high working voltage.

The ALC40 105°C 500 VDC Snap-In Series, featuring high ripple current and long-life characteristics with a high working voltage.

A Low ESR Electrolyte, offering ESR reductions of up to 30%, available on a variety of 400 VDC 85°C and 105°C screw terminal and snap-in capacitor ranges.

The ALS 30/31 85°C Low Inductance Screw Terminal Series which lowers the inherent inductance of electrolytic capacitors by as much as 40%, reducing voltage peaks and allowing lower rated and lower cost associated circuitry.

These advancements were developed at KEMET's new Electrolytic Innovation Centre(EIC) in Weymouth, U.K., formed as a dedicated technology centre to develop the materials, processes and design methodology for KEMET's electrolytic capacitors. The EIC combines the resources of numerous departments including Research and Development, Quality and Product Management to continually challenge the boundaries of electrolytic capacitor technology with the goal of making tomorrow's capacitor technology available today.




Product Documentation

Kemet PEG130 Datasheet | PDF 1Mb
Close
Featured

KEMET Screw Terminal Aluminium Electrolytic Capacitors



The ALS60/61 Series Meets the Needs for High Voltage, High Ripple Current Applications.

June 17, 2013 - KEMET today announced the release of the new ALS60/61 Screw Terminal Aluminium Electrolytic Capacitors.

"The ALS60/61 550Volt aluminium electrolytic capacitors have been designed using the latest electrolyte and foil technology to meet the high voltage, high ripple current and long life demands of the electronics industry," said Nick Mason, KEMET Director, ST & SI Electrolytic Product Management.

KEMET continues to offer flexibility through its electrolytic design service, which means these capacitors can be optimized for a customer's specific application requirements without creating a fully custom design.

"These capacitors are ideally suited for industrial and commercial applications demanding high reliability with long life expectancies, such as, frequency converters, inverters, UPS systems, switch mode power supplies, traction and welding," continued Mason. Typical markets addressed by these new capacitors include alternative energy, industrial lighting, medical, transportation, as well as defence and aerospace.

Rated for DC applications up to 550Volts and ambient temperatures of 85 degrees Celsius with screw terminal connections, these capacitors have a life expectancy of 18Khrs to 20Khrs at rated ripple current.




Product Documentation

Kemet ALS60-ALS61 Datasheet | PDF 1Mb
Close
ALN20S - The Ultimate Audio Capacitor




New T-Network capacitors feature unique current routing which separates the input and output currents to produce a signal which is closer to pure capacitance. T-Network capacitors can replace conventional electrolytic capacitors which limit filtering performance when resistance-generated voltage transients are created by the input and output currents sharing a common path.

Filtering T-Network Capacitor

Slit-foil technology
Filters out signal resistance & inductance
Long life: 18000 hours at 85°C
IEC 60384-4 standard




Product Documentation

Request Sample Kemet ALN20S | Kemet ALN20S Datasheet | PDF 1Mb | Kemet ALN20S Technical Article (PDF 1Mb)
Close
A700 Series Polymer Aluminum




The KEMET Aluminum Organic Capacitor (AO-CAP) is a solid state aluminum capacitor with an aluminum oxide dielectric and conductive polymer cathode. The use of the conductive polymer cathode results in very low ESR and improved capacitance retention at high frequency. AO-CAP's may be operated at steady state voltages up to 100% of rated voltage (no derating) with equivalent or better reliability than tantalum capacitors operating at the recommended derated voltage.

Product Documentation

Kemet A700 Datasheet | PDF 2Mb