TT Electronics - OPTEK Technology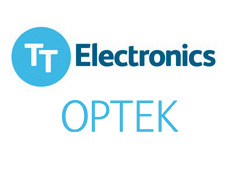 OPTEK distributor product portfolio includes standard and custom optoelectronic sensors and switches, magnetic sensors, hall-effect and magnetoresistive components, fibre optic components, and VCSELs. OPTEK products can be found in office equipment, industrial applications, encoders, military and high-reliability applications, medical diagnostic equipment, automotive and lighting applications.
Optoelectric Solution | PDF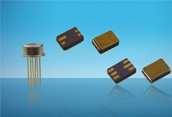 News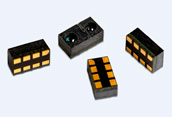 New Product

SMD Reflective Optical Sensor - OPB9000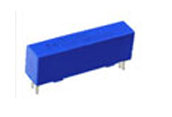 Featured Product

High Voltage Optoisolator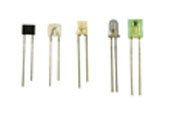 Popular OPTEK Products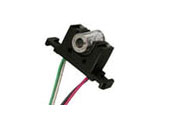 Optoelectronic Sensors & Switches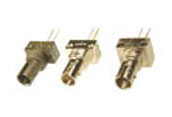 Fibre Optic Components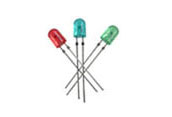 Visable LEDs
Close
News




Radiation tolerant optocouplers from TT Electronics provide highly reliable electrical circuit isolation in deep space environments.

TT Electronics has announced the market introduction of its HCC100x series of radiation tolerant optocouplers. The devices are ideal for the isolation of electrical circuits within high-radiation deep spaceflight applications, including satellites, launch vehicles, space craft, and planetary rovers.

The HCC100x optocouplers use a light sensitive interface to offer high-reliability electrical isolation between input and output circuits. They are highly robust and operate well in very harsh, dirty environments. The devices are TID (Total Ionizing Dose) radiation tolerant to 100Krad (Si), extended to 300Krad, with a low dose rate (ELDRS) of 0.1rad/s and Neutron exposure of 1E12 neutrons/cm, extended to 2E12 neutron/cm.

The optocouplers' rugged design consists of both an infrared LED and NPN silicon phototransistor, mounted in a choice of packages, either a hermetically sealed TO-78 metal can, 6-pin SMD, hermetically sealed ceramic 4-pin or 6-pin LCC, high-voltage isolator assembly, or a custom designed package. These devices feature 1kV electrical isolation and other optoisolator assemblies extending out to 50kV.

The HCC1000 and HCC1001 include a base supplied contact for conventional transistor biasing, while the HCC1002 features a hermetically sealed ceramic LCC 4-pin without base contact. Models are further available with choice of either a high-voltage isolator assembly or custom designed package. TX and TXV processing are available to MIL-PRF-19500 conformance requirements.

The HCC100x optocoupler series can also support ground loop elimination, level shifting, line receiver switching, power supply isolation, and motor control within high-voltage power systems, nuclear environments, and any other harsh industrial environment where the presence of radiation may pose added risks of electrical circuitry performance degradation.

Please see the TT Electronics webpage for more information
Close
New Product

SMD Reflective Optical Sensor - OPB9000



The OPB9000 is a versatile sensor that can be used in a wide variety of industrial and medical applications. The sensor features market-leading ambient light immunity which allows operation from dark rooms to bright sunlight. It can detect various types of media with as little as a 30% change in reflectivity. Robust, industrial grade resin allows the sensor to operate at a wide temperature range from -40C to + 85C, ideal for the harshest environments.

Features

Market leading 25k+ lux ambient light immunity
Programmable output configuration and sensitivity level
Single-command calibration with on-chip EEPROM
Temperature-compensated LED drive
6μs response time
Pulsed synchronous drive-detection
Surface mount package
Small dimensions: L 4.0mm x W 2.2mm x H 1.46mm
-40°C to +85°C operating temperature range
2.7V to 5.5V supply voltage
Ideal for industrial and medical applications

Applications

All non-contact position sensing and presence detecting applications
Industrial printing and high-speed paper detection
Manufacturing and automation
Automated banking machines
Hospital and lab equipment
Portable medical equipment
Automatic dispensing
Material handling and asset tracking




Product Documentation

SMD Reflective Optical Sensor Datasheet | PDF | OPB9000 Photologic V Overview | PDF
Close
Featured Product

OPTEK Solution: Smart Meter Pair




Charcroft Samples New Optical Port Switches for Smart Meter Applications

Smart Meter Pair offers MCU-compatible output and immunity to ambient light
Eliminates the need for signal conditioning and opaque shielding
Combines compliance to ANSI C12.18 with x10 faster performance

Charcroft Electronics Ltd is sampling a new pair of optical port switches designed for Smart Metering and other applications.

As an alternative to the conventional pairing of an LED and a phototransistor, Optek's Smart Meter Pair offers a number of benefits: compatibility with existing microcontrollers eliminates the need for external conditioning circuitry to eliminate crosstalk between the two components and immunity to ambient light eliminates the need for opaque shielding. In addition, the Optek's Smart Meter Pair are compliant with the ANSI C12.18 Smart Meter standard whilst also providing performance which is10x faster than the current specification. The OP181 and OPL6000 are offered in sub-miniature reverse gull-wing surface-mount packages to reduce board space and also support low power consumption.

Manufactured by TT Electronics Optek, the surface-mount Smart Meter Pair consists of the OP181 emitter, incorporating a high-power 940nm LED; and the OPL6000 receiver which integrates a custom CMOS ASIC and a lens to provide maximum light-coupling ability.

Optical port switches are used to provide a fail-safe back-up which allows on-site personnel to retrieve vital information in the event of a failure of the remote communication system which transfers information from the smart meter to the utility provider.

Designed specifically for smart-meter applications, these optical port switches can also be used in other applications such as photo interrupters; miniature light barriers, miniature switches, optical switches, counters, and as an emitter in proximity sensors.

´

Applications

Smart Meters
Photo interrupters
Miniature switches
Counters

Short Distance IR links
Miniature light barrier
Optical switch
Emitter source for proximity sensors




Features

Fast response up to 256Kbps operation
Sub-miniature reverse gull wing SMD package
Lenses for maximum performance
Ambient light immunity
Compliant with Smart Meter Standard ANSI C12.18




Advantages

10x faster than the current Smart Meter Standard
No external conditioning circuity required
Compatible with commercially available microcontrollers
Built-in ambient light immunity (no external shielding required)




Product Documentation

Request Sample | Fast Facts | PDF | OP181 Datasheet | PDF | OPL6000 Datasheet | PDF
Close
Featured Product

- OPI1268S High-Voltage Optoisolator for Industrial, Transportation and Medical Applications



Optoisolator carries the UL, VDE, ATEX and IP certifications for harsh environments

OPI1268S has become the industry's only high-voltage Optoisolator to carry all four of the UL, VDE, ATEX/IECex and IP65 certifications for operation in harsh and potentially hazardous environments. Featuring 20KV isolation and ≤50ns propagation delay, the OPI1268S is ideal for metering equipment, transportation systems, hybrid vehicles, medical devices, and industrial control/safety systems.




Product Documentation

Datasheet | PDF | Request Sample
Close
Popular OPTEK Products



Close
Optoelectronic Sensors & Switches




OPTEK optoelectronic components for medical, industrial, military, high reliability, commercial, and automotive applications combine design flexibility with the highest reliability. Available in any package type and size, think OPTEK for your next fluid sensor, slotted or reflective switch, pill pack, or isolator design.
Close
Fibre Optic Components




Delivering the highest coupling performance and thermal stability, our fibre optic VCSELs, transmitters, receivers, and transceivers are designed for optimum performance in fibre optic data communications applications.
Close
Visible LEDs




As a major provider of high reliability LEDs and LED assemblies for signage, backlighting, channel lighting, high brightness indicators and illuminators, automotive interior and exterior lighting, architectural and entertainment lighting applications, OPTEK's standard and custom LED devices are available in the package sizes and power ratings to meet all your lighting needs.