X-REL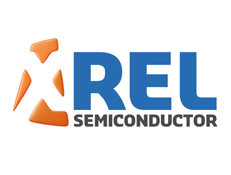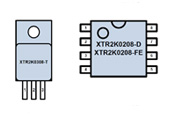 XTR2K0x08 - High-temperature, 80mΩ High-voltage N-channel Depletion jFet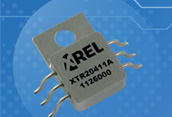 High Temp Family Of 80V Low-side N-Channel Power MOSFET With Driver - XTRM Series XTR20810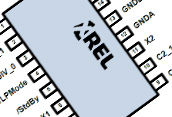 New Product

High-Frequency Crystal Oscillator Driver - XTR60020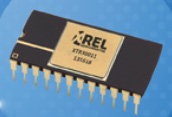 High Temp PWM Controllers Family - XTRM Series - XTR30010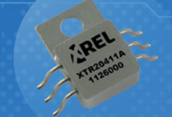 High Temp Family Of 40V N-Channel Power MOSFET With Driver - XTR20410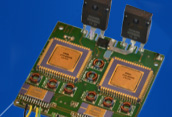 High Temp Intelligent Gate Driver - XTR26010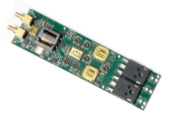 New Product

XTR26020 - High Temp/High Rel Power Gate Drive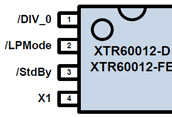 New Product

XTR60010 - High Temperature, Crystal Oscillator Driver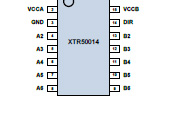 New Product

XTR50010 - High Temperature Bidirectional Level Translators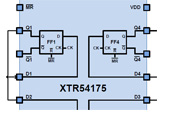 New Product

XTR54170 - High Temperature Edge-Triggered D Flip-Flop Family
X-REL Semiconductor designs and manufactures a wide range of state-of-the-art components for High-reliability and High-temperature applications. Range of products such as :
Power Management:

PWM Controllers
Power MOS Transistors with Driver
Power Drivers
Low-Dropout Voltage Regulator

Signal Conditioning:

Series Voltage References
Shunt Voltage References

Clock & Timing:

Precision Timers
Crystal Oscillator Drivers

Interfacing & Transceivers:

Discretes:

Logic:

Logic Gates
Level Translators
Edge-Triggered Flip-Flop
X-REL Semiconductor offers High-Reliability and High-Temperature ICs for extremely demanding applications where failing is not an option. Those applications include Space & Aeronautic, Transportation & Automotive, Downhole, Pharmaceutical, Industrial and Military.
X-REL offers on their standard production parts High Temp Operating Life Time of 5 years at 230 degrees Celsius
Close
NEW PRODUCT

XTR2K0x08 - High-temperature, 80mΩ High-voltage N-channel Depletion jFet



XTR2K0x08 is a family of 80mΩ depletion jFETs with maximum operation voltages between 150V and 300V designed to reliably operate from -60°C to +230°C, with junction temperature able to reach +250°C.

Fabricated on a Silicon Carbide (SiC) process, XTR2K0x08 parts offer reduced leakage currents while offering low RDS(on) and gate charge (Qg). These features allow XTR2K0x08 parts to be ideally suited for linear as well as for switching applications.

Parts from the XTR2K0x08 family are available in ruggedized 3-lead TO257, 8-lead side brazed DIP and 8-lead SOIC-like with ePAD.




Product Documentation

XTR2K0x08 Series Datasheet | PDF 1Mb



Applications

Reliability-critical, Automotive, Aeronautics & Aerospace, Down-hole
Voltage regulation, voltage clamping, power switching, motor control, power inverters

Applications

Minimum BVDSS > 650V
Allowed VGS range –15V to +2V
Operational beyond the -60°C to +230°C temperature range
Low RDS(on)

XTR2K0x08: 290 mΩ @ 230°C

Maximum ID:

XTR2K0208: 2A @ 230°C (package limited)
XTR2K0308: 15A @ 230°C

On-time (td(on)+tr):

XTR2K0x08: 55nsec @ 230°C

Off-time (td(off)+tf):

XTR2K0x08: 65nsec @ 230°C

Ruggedized 3-lead TO257, 8-lead side brazed DIP and 8-lead, SOIC-like with ePAD
Close
NEW PRODUCT

High Temp Family Of 80V Low-side N-Channel Power MOSFET With Driver - XTRM Series XTR20810



XTR20810 is a family of extremely flexible power N-channel MOSFETs with integrated driver designed for extreme reliability and high temperature applications such as DC/DC converters, motor control and power switching. XTR20810 parts are intended to be used as low side switches. They can sustain drain spikes up to 100V. XTR20810 parts can be directly driven by any 5V digital output, making them fully plug-and-play devices, avoiding any time consuming optimization of the matching network between driver and power transistor.




Product Documentation

XTRM Series XTR20810 Datasheet | PDF 1Mb



Features

Operational beyond the -60°C to +230°C temperature range.
Robust operation as low-side switch with drain spikes up to 90V.
Standard Schmitt-trigger CMOS input
Exists in inverting and non-inverting versions.
Plug-and-play with any digital 5V output.
Over current (desaturation) protection with soft turn-off.
Under voltage lockout UVLO protection (MOSFET OFF).
Low on-resistance:

XTR20811:1700 mΩ @ 230°C
XTR20812:780 mΩ @ 230°C

Large peak current capabilities:

XTR20811:1.6A @ 230°C
XTR20812:3.8A @ 230°C

Low On- and Off-time (<100 nsec @ 230°C).
Monolithic design.
Latch-up free.
Ruggedized SMT and thru-hole packages.
Also available as bare die.
Close
NEW PRODUCT

High-Frequency Crystal Oscillator Driver - XTR60020



Features

Operational beyond the -60°C to +230°C temperature range
Supply voltage from 2.5V to 5.5V
Monolithic crystal oscillator driver controller
Operational from 1MHz to 50MHz
Automatically adapts to used crystal
Integrated capacitors for reduced Bill-of-Material
Selectable low-power mode
Selectable 1/128 prescaler
Programmable Freq/1, Freq/2, Freq/4, Freq/8 divider
Stand-by functionality with output buffer in High-Z state
Separate oscillator and buffer supply pins for low-noise operation
Latch-up free
Ruggedized SMT and thru-hole packages
Also available as bare die




Product Documentation

XTR60020 Datasheet | PDF 1Mb


Close
High Temp PWM Controllers Family - XTRM Series - XTR30010




Features

Operational beyond the -60°C to +230°C temperature range
Supply voltage up to 50V
Monolithic PWM controller




Product Documentation

XTR30010 Datasheet | PDF 1Mb


Close
HIGH-TEMPERATURE FAMILY OF 40V N-CHANNEL POWER MOSFET WITH DRIVER - XTRM Series - XTR20410




Features

Operational beyond the -60°C to +230°C temperature range
Robust operation as low-side or high-side switch
Input-to-output level shifting from -30V to +40V
Standard Schmitt-trigger CMOS input
Exists in inverting and non-inverting versions

Applications

Reliability-critical – Automotive, Aerospace, Down-hole
DC/DC converters, motor drive, switching power supplies




Product Documentation

XTR20410 Datasheet | PDF 1Mb


Close
HIGH TEMPERATURE INTELLIGENT GATE DRIVER - XTRM Series - XTR26010




Features

Operational beyond the -60°C to +230°C temperature range. Supply voltage from 7V to 40V. Integrated charge-pump inside pull-up drivers allowing 100% duty-cycle PWM control signal. Internal 5V LDO regulator

Applications

Reliability-critical - Automotive, Aerospace, Down-hole, Energy Conversion, Solar Intelligent Power Modules (IPM) Motor drives Uninterruptible power supplies (UPS) Power inverters Power conversion and power factor correction (PFC) DC/DC converters and switched mode power supplies (SMPS)




Product Documentation

XTR26010 Datasheet | PDF 1Mb


Close
XTR26020 - HIGH TEMPERATURE, ISOLATED INTELLIGENT GATE DRIVER




Features

Operational beyond the -60°C to +230°C temperature range.
Supply voltage from 4.5V to 40V.
Integrated charge-pump inside pull-up driver allowing 100% duty-cycle PWM control signal.
Internal 5V LDO regulator.
Safe start-up of normally-on devices.
Isolated data transmission through multi-channel transceiver.
Half bridge cross-conduction protection.
Pull-up driver with 3A peak current and 1A continuous current capability.
Pull-down driver with 3A peak current capability.
On-chip active Miller clamp switch with 3A capability.
Resistor-programmable Under voltage lockout (ULVO).
Resistor-programmable over-current protection level (rail-to-rail, positive and negative current sense).
Latch-up free.
Ruggedized SMT packages.
Also available as bare die.

XTR26020 is a high-temperature, high reliability isolated power transistor driver designed to provide a robust, reliable, compact and efficient solution for driving a large variety of high-temperature, high-voltage, and high-efficiency power transistors. XTR26020 is able to drive normally-On and normally-Off power transistors in Silicon Carbide (SiC), Gallium Nitride (GaN) and standard silicon, including JFETs, MOSFETs, BJTs, SJTs and MESFETs.




Product Documentation

XTR26020 Datasheet | PDF 1Mb
Close
XTR60010 - High Temperature, Crystal Oscillator Driver




X-REL Semiconductor, the specialist in high reliability and extreme temperature Integrated Circuits, broadens its Clock & Timing product line by introducing its low-power, small foot-print Crystal Oscillator Driver XTR60010. Intended for operation in high-reliability, extreme temperature and extended lifetime systems, the XTR60010 is specially tailored for crystal oscillators, clock generation, clock buffering, frequency division and precision timing applications, with supply voltages from 2.5V to 5.5V and with crystals from 32kHz to 50MHz.

Several functional features have been implemented in the XTR60010 to minimize bill-of-material (BoM) and ease adoption, such as automatic gain control of crystal driver, on-chip crystal load capacitors, customer selectable prescaler and programmable frequency divider. This reduction in area and bill-of-material (BoM), together with the fact of adapting to the used crystal with no intervention needed from the customer offered by the XTR60010 provides a drastic reduction in system complexity, cost and development time, greatly accelerating qualification cycles and time-to-market of products developed by X-REL's customers.

As all other X-REL Semiconductor product, the XTR60010 is able to reliably operate well below and above the -60°C +230°C (5 years at +230°C) temperature range. Being operational at high temperatures is mandatory not only in applications where the environment is at elevated temperature, but also where self heating of some device of the system makes the temperature increase inside the application casing. Additionally, all X-REL Semiconductor products can be used in applications running at lower temperatures (e.g. from 100°C to 200°C) where extended lifetime is expected or where failing is not an option. For example, the expected lifetime of X-REL Semiconductor parts in a driver application operating at Tj=150°C is over 35 years.

XTR60010 devices are already available and can be immediately deployed on niche as well as on large-scale markets in high-reliability compact hermetic or plastic packages, as well as bare dies.

Features

Supply voltage from 2.5V to 5.5V
Operational beyond the -60°C to +230°C temperature range
Monolithic crystal oscillator driver controller
Operational from 32kHz to 50MHz
Automatically adapts to used crystal
Integrated capacitors for reduced Bill-of-Material
Selectable low-power mode

Selectable 1/128 prescaler
Programmable Freq/1, Freq/2, Freq/4, Freq/8 divider
Stand-by functionality with output buffer in High-Z state
Separate oscillator and buffer supply pins for low-noise operation
Latch-up free
Ruggedized SMT and thru-hole packages
Also available as bare die

Applications

Reliability-critical, Automotive, Aeronautics & Aerospace
Down-hole
Crystal oscillators, clock generation, clock buffering, clock frequency divider, time-base generator, precision timing




Product Documentation

XTR60010 Datasheet | PDF 1Mb
Close
XTR50010 - High Temperature Bidirectional Level Translators




Features

Operational beyond the -60°C to +230°C temperature range
Supply voltage from 2.5V to 5.5V
OE/DIR input can be referenced to VCCA or VCCB
Up to ±8mA output drive (Directional)
Max Data Rates (Bidirectional)

- 16Mbps (Translate to 5V)
- 12Mbps (Translate to 3.3V)
- 8Mbps (Translate to 2.5V)

Max Data Rates (Directional)

- 60Mbps (3.3 to 5V)
- 40Mbps (2.5 to 5V)
- 30Mbps (Translate to 3.3V)
- 20Mbps (Translate to 2.5V)

Ruggedized SMT packages
Also available as bare die

Product Description

The XTR50010 is a family of bidirectional level translators that can be used for data communication between devices or systems operating at different supply voltages. XTR50010 is able to operate from -60°C to +230°C, with supply voltages from 2.5V to 5.5V. In XTR50011 or XTR50012, the communication direction between An and Bn ports are automatically and independently sensed by the circuit. This allows simultaneous data flow in any direction.

In XTR50014 or XTR50015, the DIR logic-level input is used to control the data flow direction. The DIR input can be powered by either VCCA or VCCB. This brings more flexibility at system level. Parts from the XTR50010 family are available in ruggedized SMT and through-hole packages. Parts are also available as bare dies.




Ordering Information

| Product Reference | Temperature Range | Package | Pin Count | Marking |
| --- | --- | --- | --- | --- |
| XTR50010-BD | -60°C to +230°C | Bare die | | XTR50010 |
| XTR50011-D | -60°C to +230°C | Ceramic side braze DIP | 16 | XTR50011 |
| XTR50011-S | -60°C to +230°C | Ceramic SOIC | 16 | XTR50011 |
| XTR50012-D | -60°C to +230°C | Ceramic side braze DIP | 8 | XTR50012 |
| XTR50012-FE | -60°C to +230°C | Gull-wing flat pack with ePad | 8 | XTR50012 |
| XTR50014-D | -60°C to +230°C | Ceramic side braze DIP | 16 | XTR50014 |
| XTR50014-S | -60°C to +230°C | Ceramic SOIC | 16 | XTR50014 |
| XTR50015-D | -60°C to +230°C | Ceramic side braze DIP | 8 | XTR50015 |
| XTR50015-FE | -60°C to +230°C | Gull-wing flat pack with ePad | 8 | XTR50015 |

Other packages and packaging configurations possible upon request.




Product Documentation

XTR50010 Datasheet | PDF 1Mb
Close
XTR54170 - High Temperature Edge-Triggered D Flip-Flop Family




Features

Wide operating supply voltage from 2.8V to 5.5V
Operational beyond the -60°C to +230°C temperature range
Up to ±8mA output drive
Schmitt-Trigger Inputs allow better switching noise immunity
Ruggedized SMT packages
Also available as bare die

Product Description

The XTR54170 is a family of positive-edge-triggered D-type flip-flops. XTR54175 have four D-type flip-flops with individual data input D and both Q and outputs. The common clock CK and master reset inputs trigs and resets all flip-flops simultaneously. XTR541G74 have a single D-type flip-flop with data D and clock CK inputs, Q and outputs, and set and reset inputs.

Parts from the XTR54170 family are available in ruggedized SMT and through-hole packages. Parts are also available as bare dies.

Ordering Information

| Product Reference | Temperature Range | Package | Pin Count | Marking |
| --- | --- | --- | --- | --- |
| XTR54170-BD | -60°C to +230°C | Bare die | | XTR54170 |
| XTR54175-D | -60°C to +230°C | Side braze DIP | 16 | XTR54175 |
| XTR54175-S | -60°C to +230°C | Ceramic SOIC | 16 | XTR54175 |
| XTR541G74-D | -60°C to +230°C | Side braze DIP | 8 | XTR541G74 |
| XTR541G74-F | -60°C to +230°C | Flatpack with exposed pad | 8 | XTR541G74 |

Other packages and packaging configurations possible upon request.




Product Documentation

XTR54170 Datasheet | PDF 1Mb